Digital Clip Factory - Freeware Photo to Movie Zoom and Pan transition effects
The Digital Clip Factory creates Windows Media file slide shows using the "Zoom and Pan" motion effects with, music and transitions. Burn your movies to DVD or publish them to the web.
"Pictures say more…"
True, if you use our Digital Clip Factory application to create those "Zoom and Pan" effects you like and export it to a compatilbe Windows Media File. Our Digital Clip Factory application is freeware / donationware. Just drag some pictures to the timeline and some audio and off you go. The pan and zoom effect are completely adjustable and can be stretched and cropped to your taste.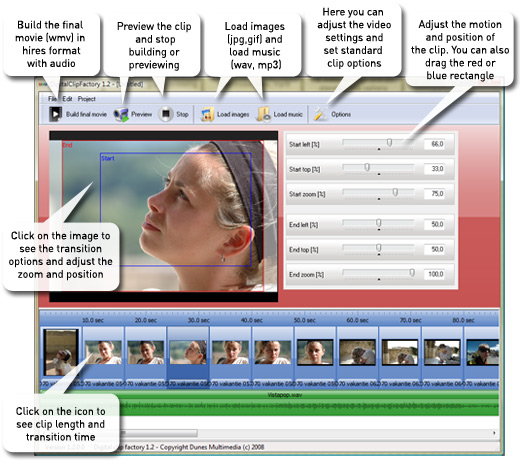 Digital Clip Factory, Iphoto transition effects for windows
Digital Clip Factory is freeware based on free donation from our customers. The future developent will depend on your donations! Thank you for supporting us!
"Notwithstanding any previous representations to the contrary, Ken Burns is not affiliated with, and has not endorsed, either Dunes MultiMedia or Digital Clip Factory".
Donate using paypal
You can support us by donating an amount to our paypal account for future development: